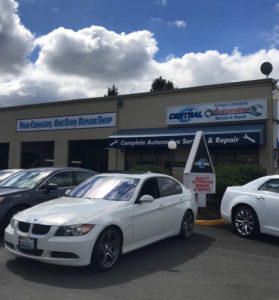 Your new BMW specialist in Federal Way is where you may not expect – at Central Avenue Automotive. We've got a team of technicians ready to provide the high quality BMW service you need at prices you can smile about. Forget about wasting time and money at the busy dealership when you've got a small, family-owned shop that's ready for you when you need them most. We strive for excellent customer service and trustworthy repairs so when you drive away, you drive away happy and confident.
For BMW repair big or small, we've got the tools, technology and experience to help you. From engine, radiator or brake repair to maintenance work, Central Avenue Automotive is the shop to trust. Routine maintenance is an easy and great way to keep your BMW running at its best. Oil changes, tire rotations, and inspections at key mileage points will help your car perform better, last longer, and even help retain its value. As your BMW specialist in Federal Way, we can take care of your car as if it were our own.
BMW service you can rely with prices too good to be true – not just a wish any longer! We've got you covered, bumper to bumper, with repairs you can trust. Call us today to schedule your appointment or request one online for when it's convenient for you. Come see what quality service and family business is all about. We're ready to be the BMW specialist in Federal Way that you've been waiting for!