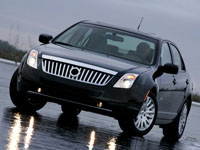 When you need reliable Mercury repair & service in Kent, WA, look no further than Central Avenue Automotive! We're a family-owned and operated shop that's been helping our community have safe, dependable vehicles since 1998. As an ASE-certified and AAA-approved Mercury repair shop, we take pride in offering affordable, high-quality auto care–and we back our repairs with a 3-year/36,000-mile parts and labor warranty. Your car is always in excellent hands with us!
Schedule an appointment today at (253) 854-6762.
Comprehensive Mercury Repair & Service in Kent, WA
Regardless of the age of your vehicle, regular maintenance is essential for maximizing its dependability and road life. Even if your Mercury is running well, small maintenance items, like oil changes, hose and belt replacements, and tire services go a long way in preventing repairs and inconvenient breakdowns. By being proactive with your car, you can prevent a wide range of expensive issues. However, even with the best maintenance plans, you may still need a repair.
As a full-service Mercury repair shop, we offer:
Catalytic Converter Repair
Engine Repair
Oil Change
Radiator Service & Repair
Transmission Service & Repair
Wheel Alignment
Alternator Replacement
Head Gasket Replacement
ABS Speed Sensor Replacement Service
Shocks & Struts Replacement
Exhaust Service & Repair
Water Pump Replacement
Tune Up
We also offer emergency repairs, pre-purchase inspections, vehicle inspection and maintenance packages, fleet services, and more!
Quality Auto Care, Exceptional Customer Service
Whether you've noticed an issue with your car or you're due for scheduled maintenance, you can trust the skilled team at Central Avenue Automotive to provide exceptional service at every appointment. We believe in treating our customers like extended family and their cars like our own. Our team puts our customers at the forefront of all we do–and it shows with our Better Business Bureau A+ rating. For the best Mercury repair & service in Kent, WA, contact us today at (253) 854-6762 or request an appointment online.