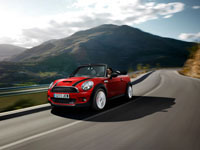 Looking for reliable Mini service in Kent? Central Avenue Automotive, family operated since 1998, offers efficient and affordable Mini Cooper repair in Kent and the surrounding communities. Not only do we offer exceptional Mini service and Mini repair, but we are also extremely capable of providing fair and honest Mini factory service to all Kent vehicle owners.
Your Mini has earned a reputation for being a stylish, compact, and technologically advanced vehicle. Our Mini service, Mini repair, and Mini factory service team of technicians is completely up to date with every aspect of the vehicle. Our cutting-edge technology and team of highly trained technicians will keep your Mini running safely and smoothly.
Aftering bringing their vehicle into Central Avenue Automotive for Mini service, Kent resident, Mandi, left us this 5-star review:
"Central Automotive may be the last honest mechanic out there! Being a female I have had my share of mechanics that put me down or treat me like I don't know anything when it comes to my car, but not at Central. They are very respectful and are always helpful when it comes to my questions. They let me know right away whether or not they can be competitive on a service and give me the best price possible. They usually can't be beat. They help me plan for the future of my car and genuinely care about me as a loyal customer. Often times they'll throw in a freebie here and there and inspect anything I have concerns about just because they want to see me again. There always great about scheduling as well…. never disappointed. When it comes to me and my vehicles they have a customer for life! Thanks to John and Jason for the best customer service in the business!"
To keep your Mini running in tip-top shape, bring your vehicle into Central Avenue Automotive, located in Kent, for honest, efficient, and affordable Mini service, Mini repair, and Mini factory service. We take care to use the same Original Equipment (OE) parts, fluids, oils, and antifreeze that is used at the Mini factory. You can always count on Central Avenue Automotive to offer the best possible Mini factory service and Mini repair in the entire Kent, Washington region.
To schedule an appointment, visit our website or call (253) 269-7002. Bring in your vehicle for a suspension repair or a check light engine diagnostic. If you need to drop off your vehicle during non-business hours, feel free to fill out our night drop form located on our website. We look forward to hearing from you.