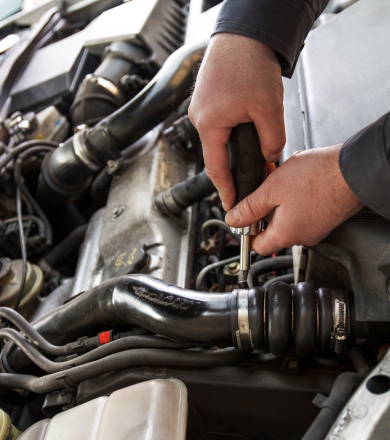 Are you dealing with a leaking hose on your car Des Moines? Then bring in into Central Avenue Automotive for reliable, affordable diagnosis and car repair. We are skilled at auto repair and service, and we strive to offer friendly service at a fair price.
Hose leaks can come from many causes. Rodents, such as squirrels and mice, may gnaw on accessible rubber hoses. While squirrels are notorious for chewing on electrical wiring, they are also often attracted to narrower diameter rubber components, and even softer plastics. Hoses carrying gasoline and a variety of performance fluids can be damaged by these critters. It is essential that come in for car repair if you notice a puddle of unfamiliar fluid under your car.
Corrosion from road treatment chemicals may also shorten hose life. Even the moist, salty air in ocean communities can make hoses require more frequent replacement. Rubber and plastic components degrade over time even in low usage cars and need to be replaced frequently.
Power steering hose leaks are not uncommon and can be extremely dangerous. A leaking hose for power steering on a car or truck in Des Moines puts the driver and passengers in that vehicle, as well as everyone on the road, at risk. Typically they begin as very slow leaks, so the degradation in performance is not immediately noticed. Power steering puts a lot of pressure on the hoses and eventually wears out the rubber. It is essential that the power steering hoses of your car are checked regularly by a mechanic, such as the experienced technicians at Central Avenue Automotive, and replaced when required.
Central Avenue Automotive is located a short distance from Des Moines at 1514 Central Avenue South, Suite A in Kent. Whether you are noticing serious warning signs with your vehicle or just want a little tune up, bring your vehicle in today. We will get you back on the road with peace of mind as soon as possible.