Kevin
Hi, I'm Kevin! I am one of the Master Automotive Technicians. I specialize in European vehicles, and electrical diagnosis. I attended Renton Tech, am an ASE certified technician, and am constantly continuing my education. I take courses each year to stay current on BMW, AUDI, VW, and other European vehicles as technology continues to advance. Being an Automotive Technician for over 25 years, and working at Central for over 5 years, I bring a lot of experience to the table. Some of my favorite activities include camping, fishing, wakeboarding, snowboarding in South Lake Tahoe, traveling, spending time with my family and friends, and my favorite….GOLF!
Jeff
Hi, my name is Jeff, and I have been a Master Automotive Technician at Central Automotive for almost 11 years. I have 23 years' experience. My specialties include brakes, suspension, and engine & transmission repair and replacement. I am ASE certified and have emission and AC certifications as well. I have two boys, ages four and eight. My favorite ways to spend my time are playing baseball with my kids, and watching movies (my sons really like Star Wars and Cars). I also love fishing for trout and bass.
Miguel
Hello, my name is Miguel. I am the Detail Central manager, specializing in interior and exterior vehicle detailing. I have been working at Central for a year, and have 12 years of overall detail experience. My family and I are huge Seattle Sounders fans! I really enjoy hunting and crabbing, as well as spending time with my family. My kids and I like to play soccer at the local parks, or throw a boomerang around.
Eric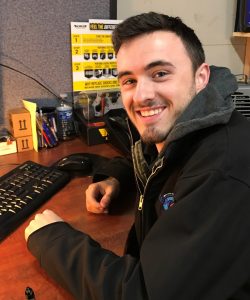 Hey, my name is Eric and I am one of your service advisors! I specialize in part availability and lookup, as well as the general shop workflow. I attended school at Green River College, obtaining a variety of automotive certifications, including an Associates Degree in Applied Science of Automotive Technology. I also attend courses with the whole team to continue my education throughout the year, in order to stay up to date with the latest technological advances. I have two years of experience, and have been working at Central Automotive for two years as well. Some of my hobbies include traveling, hiking, working on project vehicles, video
Shannon
Hey there y'all! My name is Shannon and I am the Administrative Service Coordinator. I have grown up in the automotive world. From running around the transmission shop with my dad, to helping sand and prep cars in our home based paint shop. I started exploring my career interest in the Automotive Industry in 1999 and have had the opportunity to gain a little experience in Auto Body, Parts, Service, Warranty, and even Sales. Although I am a new face at Central Automotive (September, 2017), I look forward to my future with this amazing team. Outside of the office, I enjoy teaching Country Western Dance, spinning music at the occasional wedding or behind the lens of a camera. My true passions in life are my children Sierra and Dakota, hiking the beautiful outdoors, the adrenaline rush of the ¼ mile at Pacific Raceways, and just enjoying our farm life filled with horses, dogs, cats, goats, chickens, and our exceptionally funny Parrott "Booboo".
Bryce
Hi, my name is Bryce and I have been an automotive technician for over 8 years. I got my start
in the industry by learning from my dad, a former European automotive technician, who I have
been turning wrenches with since I was 4 years old. Back when I was in high school, my dad
would have to stop me at 3:00am from working on cars in the garage because I would wake up
the neighbors. I did not know what time it was because I was having so much fun! My favorite
vehicles to work on are Toyota's and Fords, and a few of the jobs I enjoy most are replacing
timing belts, performing brake jobs, and replacing the head gaskets of 6 liter and 6.4‐liter diesel
trucks. In my free time I enjoy hunting, and fishing, and spending time with my family and
friends.
Anthony
Hey, my name is Anthony. I earned my Associates Degree at Green River College in Applied Science of Automotive Technology. My favorite vehicles to work on are Domestic vehicles, and I enjoy doing brake jobs. My favorite way to spend my time is Snowboarding at Snoqualmie Pass. I also love to attend concerts, or travel to music festivals with my friends.
Howard
Hi, my name is Howard. I have been a Master Automotive Technician at Central Automotive for 8 years and have 30 years of total experience in the Automotive Repair Industry. I started out doing tune-ups on carbureted vehicles and have continued to evolve with the changing Automotive Industry. I'm now working on the newest technologies and continue to learn new and better ways to diagnose and repair vehicles. I have been an ASE Master Technician for more than 20 years and received the ASE Advanced Engine Performance Specialist Certification as well. I am also emissions certified. A fun fact about me is that I was featured as "Technician of the Month" by Continental Elite Magazine last year. During my free time, my wife and I enjoy salmon fishing together. We spend our summer weekends chasing salmon from the coast to the Puget. I am really close to my family and love spending time with them and doing fun activities like bowling.