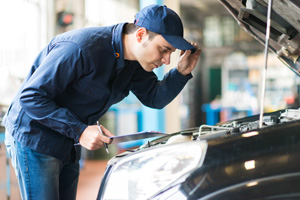 When those of us here at Central Ave Auto say we're the best auto repair in Auburn, that claim doesn't come without customer validation. We're known in the area for our excellent customer service, affordable pricing, and neighborhood feel. Since our founding in 1998, our auto repair shop has strived hard to give you, the customer, the highest quality treatment for both you and your car. We are ASE Certified, a AAA auto repair shop, an Authorized Vehicle Emissions Repair Facility, and a Better Business Bureau Accredited Business with an A+ rating. Although we appreciate this trust from both our customers and the auto repair industry, we work hard to maintain the level of quality that got us here to begin with. Saying we're the best auto repair in Auburn comes with a commitment from us to give you the greatest auto repair experience we're capable of, every single time you come in.
Your New Auto Repair Shop
Our team routinely stays ahead of the curve with the latest in automotive industry developments so we can provide the best service to our customers. We make sure we're aware of all the electronic and mechanical updates to the makes and models we service. It's not uncommon for someone to come to us with what they think is an engine or steering issue only to find out from our technicians that it's actually the car's computer causing the issue. This is why it's important to work with professionals who really understand the inner workings of both modern and older vehicles.
We're fully equipped as an auto repair shop to tackle any repairs or maintenance your vehicle may need. We specialize in air conditioning servicing, radiator repairs, exhaust, brake, and suspension systems, and of course, the crucial maintenance like oil change and tire rotation that your car will need. With us, your vehicle will stay safe and road-capable for years to come. Our online reviews demonstrate the community's enthusiasm for our car repairs and maintenance. But you don't have to take their word that we're the best and most affordable auto repair in Auburn— schedule an appointment online or by phone, or come to our facilities today so we can show you what we're made of.