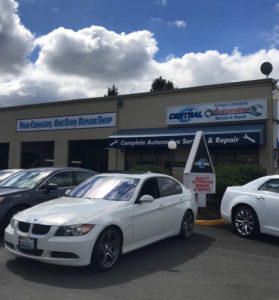 If you are looking for a BMW specialist in Des Moines that you can trust, check out Central Avenue Automotive. We are located in nearby Kent and are experienced in maintaining and repairing BMWs. We understand that these high performance vehicles require expert care, and we always strive to provide outstanding service and quality at the best possible price.
High performance vehicles with premium level features often require more frequent BMW repair. A more complex vehicle means more places for something to go wrong. Common BMW service issues are electrical in nature – problems with the anti-lock brake systems, automatic windows, automatic locks, navigation system, wiper blade motors, etc. Other common issues include rear differential failure, leaking seals, and faulty pumps. It is essential that the technician chosen for BMW service be familiar with these vehicles. Some periodic maintenance, such as frequent brake pad replacement, can also be costly.
While a BMW dealership provides a reliable level of service, cost can often be a detriment. BMW once offered a service plan with all of their new vehicles, but had to discontinue it several years ago. Finding a BMW specialist in the Des Moines area that is not a dealership can be a great way to keep maintenance and repair costs down. In addition, regular maintenance can cut costs as well, and not just by avoiding major repairs. A well maintained vehicle has better gas mileage. As fuel can be a significant expense for high performance vehicle owners, maximizing the efficiency of the vehicle is essential. Clean, high quality fluids and filters are a great way to help keep your engine humming (or purring).
Central Avenue Automotive is located at 1514 Central Avenue South, Suite A in Kent near other high quality auto service and repair businesses. Our technicians are certified by the National Institute for Automotive Service Excellence (ASE) for service you can rely on.