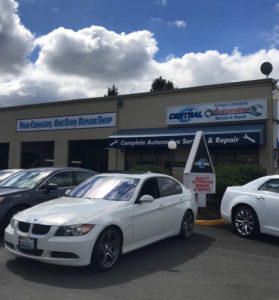 If you need a BMW specialist in Kent, we're the auto shop you need to call. Our team of certified technicians is ready to give you the BMW service you'd expect from the dealership at a fraction of the price. As a family owned business, we're committed to honest and trustworthy service, so you can feel good about entrusting your car to us. Whether you need BMW repair that's big or small, we're ready to take care of your car and take care of you.
From general maintenance services, like oil changes, to big issues, like engine trouble, Central Avenue Automotive can handle it. As your BMW specialist in Kent, we'll keep your car performing at its best. When you take care of your routine maintenance on time, you can help retain the value of your vehicle and ensure it'll keep running month after month. We can do multi-point inspections and examine your vehicle to find any small issues that may linger around or turn into big problems that can cause further damage down the road. Don't ignore the warning signs any longer — strange sounds, pings, or dashboard lights mean it's time for some quality BMW service.
Call Central Avenue Automotive today to chat with us or schedule your service appointment online! We're ready to be your go-to BMW specialist in Kent and we promise you will not be disappointed in the level of service we offer. With affordable prices, ASE certified technicians and a dedication to great service, we'll make sure you'll never need to go to a dealership again.