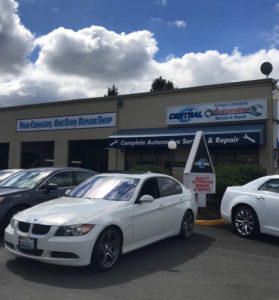 Have you been searching for a reliable, affordable BMW specialist in Renton? Consider Central Avenue Automotive, conveniently located in nearby Kent. Our experienced auto repair technicians provide great BMW service and BMW repair at affordable prices.
Seasonal maintenance is an essential part of keeping your BMW running its best. Fall brings with it a large amount of debris on roadways, primarily fallen leaves. These can become very slippery when wet, leading to loss of traction. In addition, falling temperatures can lead to freezing rain and black ice. Proper tire maintenance, especially maintaining adequate tread, is essential. Have your tires inspected and rotated at your next oil change to keep your car rolling safely. As a BMW specialist in Renton, we have access to a large selection of top quality tires if you require tire replacement.
Fall is a great time to evaluate your vehicle's radiator. Over time, radiator coolant breaks down and begins to corrode the inside of your vehicle's radiator. This can lead to compromised cooling performance and required radiator repairs. When indicated, a radiator flush can prevent future problems and keep your cooling system running efficiently. Regular service such as this can prevent unnecessary BMW repair down the road.
With fall come shorter days and the end of Daylight Savings Time. Driving is increasingly done in the dark, and often a headlight bulb that has needed replacement for months is finally detected. Headlight bulb replacement is messy and can be challenging, depending on how your headlight access is structured. We replace headlight bulbs with minimal labor charges. Fall is also a great time to check all belts and hoses to ensure that they are not worn or cracked and are properly fitted. While these components may seem small, making sure they do not require replacement is an essential part of BMW service.
Central Avenue Automotive is located just 15 minutes from Renton, at 1514 Central Avenue South, Suite A, Kent. We are proud to provide expert service without high dealership prices.