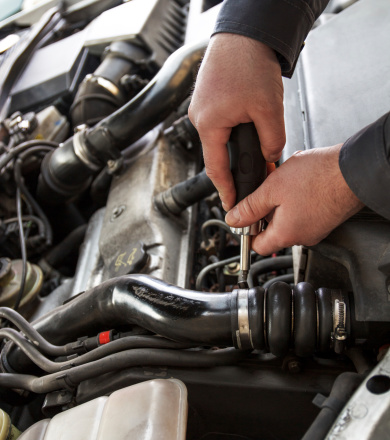 Are you experience a leaking hose on your car in Renton and do not know whether the problem is serious? Turn to the experienced car repair technicians at Central Avenue Automotive in nearby Kent for the solution. We are located just a ten minute drive from most areas of Renton.
Hoses are used throughout vehicles, and a typical vehicle has dozens of hoses that keep it running. During a vehicle's life, many of these hoses will require replacement. A hose's useful life depends on many factors, including hose material, exposure to the elements (including road treatment chemicals and extreme temperatures), and use and maintenance of the vehicle. Often, when a hose is leaking, auto repair involves nothing more than tightening the fittings. Often, however, a leaking hose on a car in Renton will need to be replaced altogether.
Radiator, heater, and other cooling systems use molded hoses. Some heater and bypass hoses are straight hoses, as are many transmission cooler, fuel, and vacuum hoses. It is essential that the correct size, type, and material of hose, as well as the proper fittings, is selected. In some cases, if the car is exposed to atypical use or conditions, hoses upgraded from those used by the manufacturers may be recommended to extend vehicle life.
Central Avenue Automotive is located a short drive from Renton, at 1514 Central Avenue South, Suite A, Kent. Our ASE certified technicians are highly experienced in vehicle diagnosis, maintenance, and repair. There is no leak, or other issue requiring auto repair, too big or too small for us to handle. Come on in and experience our friendly service, expert car repair, and competitive prices today.