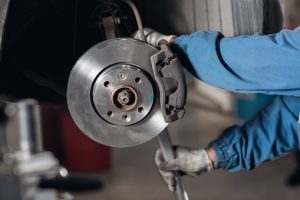 If you're looking for Brake Rotor Replacement in Kent, Wa, then come to Central Avenue Automotive, Inc. We are a full service automotive maintenance and repair shop that offers complete automotive repairs on most makes and models of vehicles, and have been family owned and operated since 1998. We take pride in using only the most advanced and up-to-date equipment in the field, we also Have 5 A.S.E master technicians on staff so that you can rest easy knowing your vehicle is having the best work possible done on it. We also have an A+ rating with the Better Business Bureau and are accredited as an Authorized Vehicle Emissions Repair Facility.
A+ Rating with the Better Business Bureau
At Central Avenue Automotive, we are known for our exceptional customer service, and strive to provide only the highest quality experience possible for our customers. Each of our professionally trained employees is an expert in more than one specialty, which ensures that each customer will receive reliable and prompt support. We can handle any sort of brake repair you may need, whether you need to Resurface Brake Rotors or get a simple Brake Pad Replacement, making us your best bet for Brake Rotor Replacement in Kent, Wa.
In addition to things like Brake Pad Replacement, we also specialize in a wide range of other services, including work on your vehicle's wheel alignment, air conditioning services, exhaust systems, radiator service and repair, belts and hoses, oil change and lubrication, suspension systems, and truck repair and service. Call us today, visit our website, or come on in to our location to see what we can do to help you!