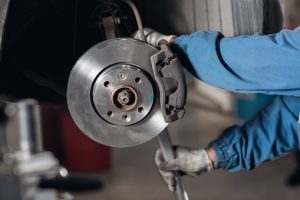 If you're looking for brake rotor replacement in Kent WA, then come to Central Avenue Automotive, Inc. We are a full-service automotive maintenance and repair shop that offers complete automotive repairs on all makes and models of vehicle. We've been family owned and operated since 1998, establishing deep personal ties to our community. We take pride in using only the most advanced and up-to-date equipment in the field. We also have 5 ASE master technicians on staff, so you can rest easy knowing your vehicle is having the best possible work performed on it. We also have an A+ rating with the Better Business Bureau and are accredited as an Authorized Vehicle Emissions Repair Facility.
A+ Rating With The Better Business Bureau
At Central Avenue Automotive, we are known for our exceptional customer service and strive to provide only high-quality experiences for our customers. Each of our professionally-trained employees is an expert in more than one specialty, which ensures that each customer will receive reliable and prompt support. We can handle any sort of brake repair you require, whether you need to resurface your brake rotors or get a simple brake pad replacement. We're always your best bet for brake rotor replacement in Kent.
Your brakes are an essential part of your car and shouldn't be neglected. Whenever you notice them acting a little off, you should make an appointment for a professional to look them over. Don't hold out – your safety could be on the line. Keep a particular eye (and ear) out for squealing, squeaking, or grinding noises. If you notice any strange smells when you brake, that could signal that your pads are almost or completely gone, which is a major issue. Don't hesitate to call on us!
In addition to things like brake pad replacement, we also specialize in a wide range of other services, including work on your vehicle's:
Exhaust systems
Radiator service and repair
Belts and hoses
 Oil change and lubrication
Suspension systems
Truck repair and service
Call us today, visit our website, or come on in to our location to see what we can do to help you!